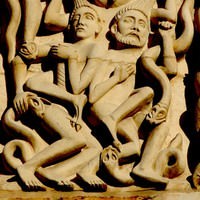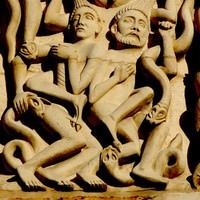 The study of homosexual, lesbian, bisexual, and transgender relations during the Middle Ages is a new area of research, with some of the first important books on the topics being published in the late 1970s/early 1980s. Since then many scholars have been examining how same-sex practices and relationships were viewed in the medieval period. For the most part, any homosexual behaviour was considered sinful by medieval society, and often laws against sodomy proscribed harsh penalties such as castration and execution.
On the other hand, research has revealed that at times, same-sex relationships were tolerated and that positive depictions about homosexuality can be found in medieval literature.
Special posts related to LGBT and Middle Ages
Intersex in the Middle Ages – A brief look at how the medieval world viewed the Intersex individual.
How far did medieval society recognise lesbianism in this period? – by Catherine Tideswell
Mischievous Monks and Naughty Nuns? Scholar re-examines the illicit sexual accusations against monasteries in England during the dissolution
Gay Reformers? Why the Medieval Church Banned Priests from Marrying
Queer Pedagogy (A Roundtable) – report on a roundtable session from the 47th International Congress on Medieval Studies
Holding it Straight: Sexual Orientation in the Middle Ages – Lecture by Dr Robert Mills, UCL History of Art
Here is a list of articles that are available online about same-sex relations in the Middle Ages:
The transformation of homosexual Liebestod in sagas translated from Latin, by David Ashurst
Medieval Arab Lesbians and Lesbian-Like Women, by Sahar Amer
"Lesbian-Like" and the Social History of Lesbianisms, by Judith M. Bennett
Two Women and their Monumental Brass, c. 1480, by Judith M. Bennett
The Cuckold, His Wife, and Her Lover: A Study of Infidelity in the Cent nouvelles nouvelles, the Decameron, and the Libro de buen amor, by Sandra Bialystok
State  power  and  illicit  sexuality:  the  persecution  of   sodomy in  late  medieval  Bruges, by Marc Boone
On Lesbian and Gay/Queer Medieval Studies, by David Lorenzo Boyd
Disrupting the Norm: Sodomy, Culture, and the Male Body in Peter Damian's Liber Gomorrhianus, by David Lorenzo Boyd
The myth of lesbian impunity: capital laws from 1270 to 1791,  by Louis Crompton
The Heterosexual Subject of Chaucerian Narrative, by Carolyn Dinshaw
Queer Relations, by Carolyn Dinshaw
Bertilak Reads Brut: History and the Complications of Sexuality in Sir Gawain and the Green Knight, by Heidi Estes
Gay Studies and Feminism: A Medievalist's Perspective, by Simon Gaunt
The Experience of Homosexuality in the Middle Ages, by Paul Halsall
Addressing the Issue of Lesbianism in a General Course on Women in the Middle Ages, by Sylvia Huot
Homosexuality in the Middle Ages, by Warren Johansson and William A. Percy
An Unknown Aspect in the Life of Al-Jahiz, by Mohammad Khalil
Between Monks: Tales of Monastic Companionship in Early Byzantium, by Derek Krueger
Transgressing the Boundaries of Holiness: Sexual Deviance in the Early Medieval Penitential Handbooks of Ireland, England and France 500-1000, by Christine McCann
The Roman De La Rose and the Thirteenth Century Prohibitions of Homosexuality, by Jo Ann Hoeppner Moran
Remarriage and Ass-F**king: Shifty Byzantine Views of Sex, by Stephen Morris
Woman-Woman Love in Islamic Society, by Stephen O. Murray
Female Sodomy: The Trial of Katherina Hetzeldorfer (1477), by Helmet Puff
Personae, Same-Sex Desire, and Salvation in the Poetry of Marbod of Rennes, Baudri of Bourgueil, and Hildebert of Lavardin, by Tison Pugh
Queer Vikings? Transgression of gender and same-sex encounters in the Late Iron Age and early medieval Scandinavia, by Sami Raninen
Homoerotic Liasons among the Mamluk Elite in Late Medieval Egypt and Syria, by Everett K. Rowson
Representing the Negative: Positing the Lesbian Void in Medieval English Anchoritism, by Michelle M. Sauer
Brotherhood of Vice: Sodomy Islam, and the Knights Templar, by Mark Steckler
Salvation, Sex,  and Subjectivity, by Bruce Vernarde
(Un)Natural Love: Homosexuality in Late Medieval English Literature: Langland, Chaucer, Gower, and the Gawain Poet, by Swaeske de Vries
More Articles
These articles are not online but are useful resources on the topic: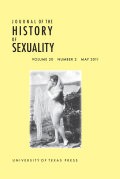 Uncovering difference: encoded homoerotic anxiety within the Christian eremitic tradition in medieval England, by Michelle M. Sauer, Journal of the History of Sexuality 19:1 (2010)
A river runs through it: disability, homosexuality queered/disabled discourse, and the Isle of Blandie in Bérinus, by Edward Wheatley, Exemplaria: A Journal of Theory in Medieval and Renaissance Studies, 19:3 (2007)
Homosexuality and marriage in a fifteenth-century Italian humanist comedy: The Debate between Cavichiolus and his Wife, by Neil Cartlidge, Journal of Medieval Latin, 15 (2006)
Knighthood, compulsory heterosexuality, and sodomy, by Ruth Mazo Karras, The Boswell Thesis: Essays on "Christianity, Social Tolerance, and Homosexuality (2006)
Male friendship and the suspicion of sodomy in twelfth-century France, by Matthew S. Kuefler, The Boswell Thesis: Essays on "Christianity, Social Tolerance, and Homosexuality (2006)
Sermons of sodomy: a reconsideration of Edward II's sodomitical reputation, by Ian Mortimer, The Reign of Edward II: New Perspectives (2006)
The writable lesbian and lesbian desire in Malory's Morte Darthur, by Kathleen Coyne Kelly, Exemplaria: A Journal of Theory in Medieval and Renaissance Studies 14:2 (2002)
The erased lesbian: sodomy and the legal tradition in medieval Europe, by Edith Benkov, Same Sex Love and Desire Among Women in the Middle Ages (2001)
In denial: same-sex desire in Byzantium, by Dion C. Smythe, Desire and Denial in Byzantium. Papers from the Thirty-First Spring Symposium of Byzantine Studies (1999)
Hrotswitha's attitude towards homosexuality, by Edoardo D'Angelo, Mittellateinisches Jahrbuch: Internationale Zeitschrift für Mediävistik / International Journal of Medieval Studies 34:1 (1999)
Muhammad and male homosexuality, by Kim Wafer, Islamic Homosexualities: Culture, History, and Literature (1997)
Twice marginal and twice invisible: lesbians in the Middle Ages, by Jacqueline Murray, Handbook of Medieval Sexuality (1996)
Ut cum muliere: a male transvestite prostitute in fourteenth-century London, by Ruth Mazo Karras and David Lorenzo Boyd, Premodern Sexualities (1996)
Sexual deviation as heresy in the XII-XIVth centuries, by Michael E. Goodich, Modernité et non-conformisme en France à travers les âges. Actes du Colloque organisé par l'Institut d'Histoire et de Civilisation Françaises de l'Université de Haïfa (1983)
The pardoner's homosexuality and how it matters, by Monica E. McAlpine, PMLA: Publications of the Modern Language Association of America 95:1 (1980)
Links to other resources
People with a History – the history of lesbians, gay men, bisexuals and transgendered people, edited by Paul Halsall
Homosexuality in Medieval Iberia – extract from the Encyclopedia of Medieval Iberia (2003)
The Questioning of John Rykener, A Male Cross-Dressing Prostitute, 1395 – from the Medieval Sourcebook
The 600 Year Tradition Behind Same-Sex Unions – by Allan Tulchin, History News Network
SaveSave