Interest in the Middle Ages seems to be stronger than ever – movies like Kingdom of Heaven and novels such as Pillars of the Earth draw millions of fans, while medieval festivals and museums featuring artifacts from the Vikings, Anglo-Saxons and other medieval societies get tens of thousands of visitors. Scholars have in recent years been examining this interest in all things medieval, and earlier this year an organization was formed to bring them together.
The Society for the Public Understanding of the Middle Ages was founded in spring of 2010 during the International Congress on Medieval Studies. The society aims to focus on how the general public views the Middle Ages through various media, an to interact with authors, filmakers, festival organizers, etc, who help shape the image of medieval society in the contemporary world.
Paul Sturtevant, one of the founders of the Society for the Public Understanding of the Middle Ages, told Medievalists.net  that he wanted to create this society so that the historians and scholars who are examining these issues will have better ways to communicate with each other. "Furthermore," he adds, "it seems apropos because, at least in the United Kingdom, there is a real push at the moment for academics to better engage their research with the public, and this is a natural way for medievalists to think about doing that."
The initial goal of the society will be the host sessions at the two largest medieval conferences in the world – International Congress on Medieval Studies at the University of Western Michigan and the International Medieval Congress at the University of Leeds. They also hope in the future to participate in other conferences and help their members publish their research.
The society is also trying to find scholars interested in the public understanding of the Middle Ages, and is encouraging practitioners in the field (e.g. those who work in museums and public history institutions) to join, as well educators interested in how public understanding of the Middle Ages relates to teaching, research and public policy. Membership is free.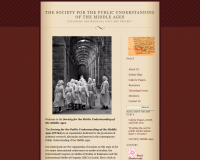 The great interest in medieval times does not surprise Sturtevant, which he notes is not a new phenomenon. He explains, "I think there has been a large appetite in the general public for medieval things because over the course of the nineteenth and twentieth centuries the Middle Ages has been rendered into our most popular collective fantastical and historical playground. It is distanced enough from the present day, both temporally and culturally, that it seems people can enjoy playing with it, and in it. This can lead to serious academic and antiquarian interest as a way of imagining yourself in a historical person's shoes, but at the same time it leads to recognizably medieval (if not actually medieval) fantasy worlds in which we play, from Grimm to Tolkien to World of Warcraft. While this has occurred with other periods (particularly the Classical world- with its myths and monsters- and the Victorian period- with Gothic or steampunk fantasies), the Middle Ages has, in my opinion, been the default historical period for this kind of play."
Those interested in the Society for the Public Understanding of the Middle Ages can visit their website at
See also an interview with Paul Sturtevant from the Chivalry Today Podcast
See also Based on a True History?: The Impact of Popular 'Medieval Film' on the Public Understanding of the Middle Ages, by Paul Sturtevant