Spring cleaning! The first issue of the Medieval Magazine with a fresh new face!
In this issue, we look at Norse seasons, medieval beliefs about luck, food and politics in Constantinople, Spanish Easter traditions, and the overlooked life of Catherine of Aragon.
In this issue, we look medieval cannibalism, dietary advice to a king, animal sex in art, the medieval precinct of St. Paul's, visit Dorchester Abbey, and look at the life of Edward II.
Banish the January doldrums with our latest issue featuring Sirens, the Bayeux Tapestry, Joan of Arc, and a trip to Ireland.
The Anniversary Issue! Medievalists.net turns 9 this September! This issue will celebrate our favourite things about the Middle Ages from travel, to art, fashion, books and events.
In this issue: Vikings, zombies, medieval music, stew, and celebrating 600 years of London's history.
In this issue we tackle National Holidays and the development of Nations, manuscripts at the Getty, and look at courtly festivities and jousting in London. We're also baking bread Viking style, taking a trip to Avignon, and joining the medieval navy!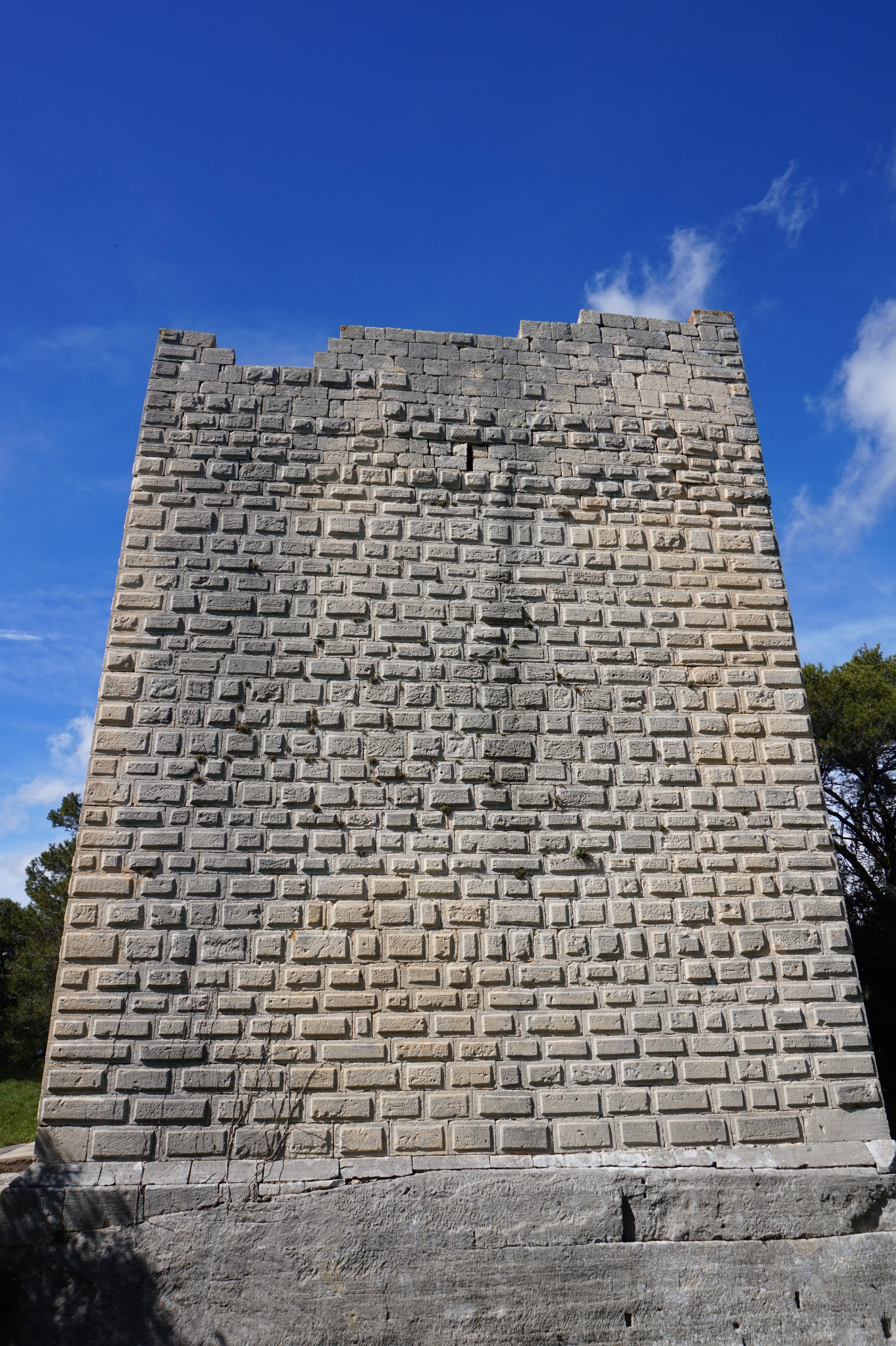 How do you operate a business when you can't read and your knowledge of math is extremely limited? Making your mark on the…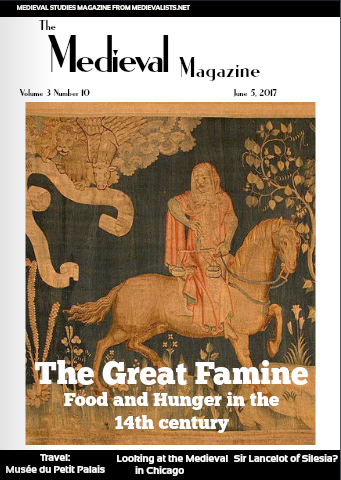 In this issue: The Great Famine – Food and Hunger in the 14th Century Feature: 10 Things to Know About the Great Famine Exhibits: Saints…
Narbonne is one of those European cities with evidence of its past on every street.
In this issue: A Man for All Centuries: The Changing Myth of King Arthur, Guy Ritchie's King Arthur comes to the big screen!, Medieval Minded with author Guy Gavriel Kay, Books: Harold: The King Who Fell at Hastings, Travel: A hidden medieval garden in Southern France
In our latest issue: Celebrating Mother's Day. Mothers Who Weren't: Wet Nurses in the Late Medieval Mediterranean
Motherly advice from the ninth century, Sex in the Roman Empire: In Bed with the Romans! Feast, Famine, and Food in Medieval Russia, Books: A trip through Welsh past in Mysterious Wales and much, much more!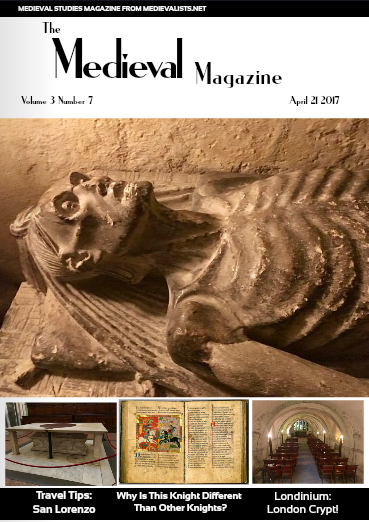 In our latest issue: Being lovesick was a real disease in the Middle Ages! Judaism, War, and Chivalry: Why is this Knight Different than Other Knights? Travel Tips: San Lorenzo's Medici Crypt! Crusade in Europe
The latest issue of the medieval magazine! The Legacy of St. Patrick, Florence – Part II: Visiting the Duomo, How King Arthur became one of the most pervasive legends of all time, A look at Ireland's mysterious medieval round towers
We've just released our latest issue of the Medieval Magazine! In this issue: 5 Ways to Win Her Heart! Images of Medieval Love:…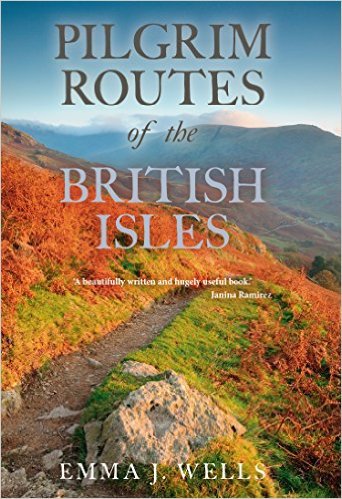 What was pilgrimage like in the Middle Ages? Do modern day routes faithfully retrace the steps of long ago pilgrims? How has pilgrimage changed over the course of hundreds of years? Tourist? Pilgrim? Or both? What is the meaning of pilgrimage today?
The V&A Museum opened its latest medieval exhibit exhibit on Saturday: Opus Anglicanum: Masterpieces of English Medieval Embroidery. I had the opportunity to see it opening day and it was spectacular.
Can you tell history through a pint? Or a cup of coffee perhaps? According to Dr. Matthew Green you can. The historian and author turned his passion for history into Unreal City Audio: London Walking Tours.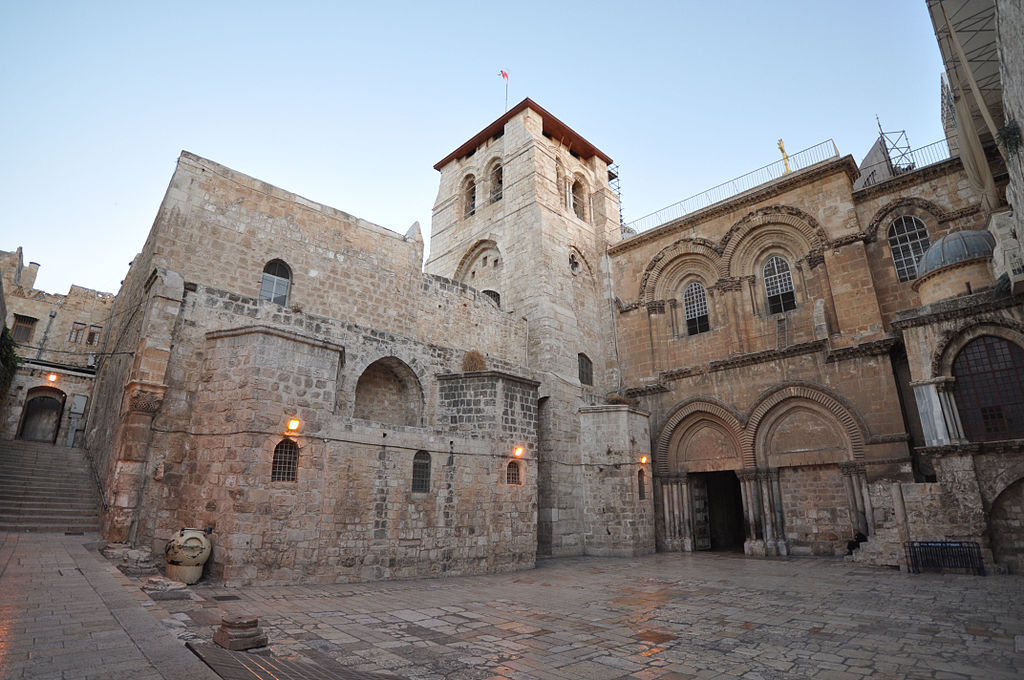 The Museum of the Order of St. John is hosting a series of events and talks to promote their project: Bearers of the Cross: Material Religion in the Crusading World 1095-1300.
Los Angeles correspondent, Danielle Trynoski takes through the, 'Traversing the Globe Through Illuminated Manuscripts' exhibut at the Getty Museum.
Love London? Then you will love this book. A fascinating trek through time looking the pivotal moments in London's history.