An entry in the Inventory of the Bayeux cathedral treasury records that in 1476 the church owned the following: Item une tente tres longue et estroicte de telle a broderie d'ymages et escripteaulx, faisans representation du Conquest d'Angleterre, laquelle est tendu environ la nefde l'église le jour et par l'octave des reliques (l). Not until the 1720 's did scholars first find and appreciate the potential importance of this brief entry.
There was not another offer for Isabel's hand until December 18, 1428 when she was thirty years old. Philip the Good, Duke of Burgundy had already been married and widowed twice by 1428.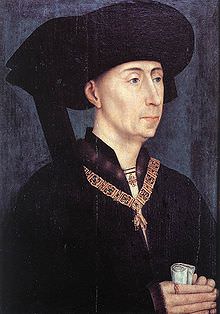 As I have shown elsewhere, the county of Holland underwent a structural change in the second half of the fourteenth century, when economically the emphasis shifted from agriculture to trade and industry and demographically from the country to the towns. The institutions however did not change.
Modernization of the Government: the Advent of Philip the Good in Holland Jansen, H.J.H Bijdragen en mededelingen betreffende de geschiedenis der Nederlanden, Vol.95 (1980)…
Portrait painting in the time of Philip the Good, Duke of Burgundy : 1419-1467 Kenyon, Kathleen Louise Thesis (M.A.)–San Jose State University (1996)…