During Louis the Pious's 36-year reign, he spent much of his time convening assemblies, securing his borders, and trying to govern his empire, rather than conquering and expanding aggressively as his father and grandfather, Charlemagne and Pepin, had done.
This paper was part of a very interesting session on the Early Middle Ages. The papers covered Eastern European Infant Burial, the archaeology of medieval feasting and conversion. This paper contrasted the conversion policies of Charlemagne versus those of Louis the Pious.
Setting Nithard's and Dhuoda's works in dialogue with one another, this study seeks to explore how the conflicts of the early 840s may have triggered reevaluations of contemporary ideals regarding lay masculinty. At the core of both authors' works is the understanding that the problems the realm was facing at that time were primarily due to no- blemen's expression of unmanly modes of conduct.
The Histories and Chronicles Hincmar had in mind were presumably Frankish ones; and Lothar II, succeeding his father, thus clearly came into this section of Hincmar's third category. But of the timing or form of Lothar's becoming king, Hincmar said not a word, preferring, instead, to spell out the Biblical lesson that a bad king (and he hastily disclaimed any allegation that Lothar's father had been a bad king) would see the succession depart from his line.
Though extremely fascinating and very appealing, the theory of the saxonization and northernization of the Gospel has ended up permeating every single level upon which an analysis of the poem can be carried out, becoming a sort of a priori starting point that may lead scholars to over-interpretation and, therefore, hinder them from developing a perhaps deeper insight into the poem.
For centuries, the reign of Charlemagne's son and sole heir, Louis the Pious (r. 814-840), has largely been remembered and understood as one marked by controversy.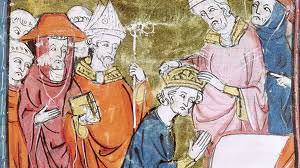 Although recent studies have shed important light on the broader political and social context in which Lupus worked, this interesting figure's literary activities continue to merit further examination within the cultural milieu of his own day
On January 28th 814, Charlemagne died at the age of 72. His son Louis the Pious succeeded his father into kingship and empire.
Currency Change in Pre-millennial Catalonia: Coinage, Counts and Economics Jarrett, Jonathan Numismatic Chronicle, No.169 (2009) Abstract  Barcelona in the late tenth century was on…