A behind the scenes look at the British Library's Harry Potter exhibit, book suggestions for your 2018 Reading List, a closer look at the meaning of the Grail, a troubadour's famous manuscript, a look at a new Tudor planner, and a review of King John.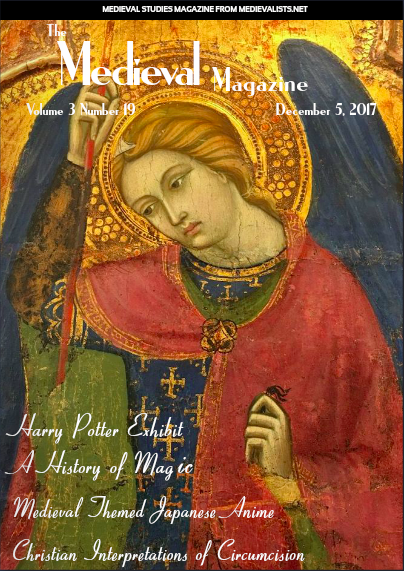 The first of our holiday issues! Christmas cheer, Medieval style! A mulled wine recipe, monastic brewing practices, Japanese Anime's take on Medieval legends, and the Circumcision of Christ. We've got your table talk covered in in this issue, so pass the gravy!
Along with its other generic borrowings, the Harry Potter series uses tropes and plot structures from medieval hagiography. Rowling most significantly uses hagiographical plot structures during the confrontations between Harry and Voldemort and the confrontation between Neville and Voldemort.
Both heroes exist to save their people from doom. According to Geoffrey of Monmouth, who authored Historia Regum Britanniae (History of the Kings of Britain) in 1136, Arthur 'led his troops against the Saxons, who were still making trouble in various parts of the country, and after various vicissitudes he defeated them on a hill outside Bath, wielding a wonderful sword called Caliburn'1 (Ashe, 'Quest').