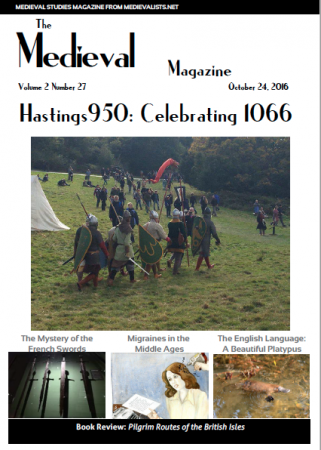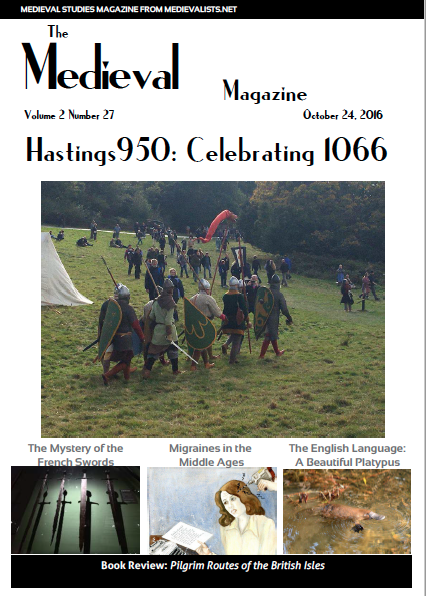 English Heritage celebrates the 950th Anniversary of the Battle of Hastings with a full-scale re-enactment! We bring you exclusive coverage and photos from the event, plus book reviews, an opinion on trigger warnings, and the mystery of the medieval swords.
Inside this issue:
The Battle of Hastings: Celebrating #Hastings950
King Harold the Great: What Might Have Been if the English Had Won at Hastings
Pepper, Pig and Fewer Bodily Emissions – How the Norman Conquest Changed
England's Eating Habits
English: The Mad and Beautiful Platypus of World Language
Mystery of the Medieval Swords to be featured on 'Medieval Dead'
Migraines were taken more seriously in medieval times – where did we go wrong?
How did 4th century Roman coins end up in Japan?
Book Review: Pilgrim Routes of the British Isles by Emma J. Wells
Book Excerpt: The Norman Conquest: William the Conqueror's Subjugation of
England by Teresa Cole
Travel Tips: Bayeux, France
and more…
You can buy this issue as PDF file for $3.99 (US) using PayPal
[paypal_for_digital_goods name="Medieval Magazine No.79″ price="3.99″ url="http://www.medievalists.net/wp-content/uploads/2016/10/medievalmag79.pdf" button_text="Click Here to Buy this issue of The Medieval Magazine using PayPal for $3.99″]
You can now subscribe to get our PDFs of the magazine automatically – just $7.99 a month or $59.99 for 1 year using Paypal
You can also buy the issue for $3.99 or subscribe to our magazine through Joomag for $59.99 for 1 year
✉Sign up for our weekly email newsletter!