Over 10,000 folios from the medieval Registers from the Archbishops of York have been been digitized and published by online by the University of York. This website – York's Archbishops Registers Revealed – makes available one of the most important collections of historical materials related to England's ecclesiastical history.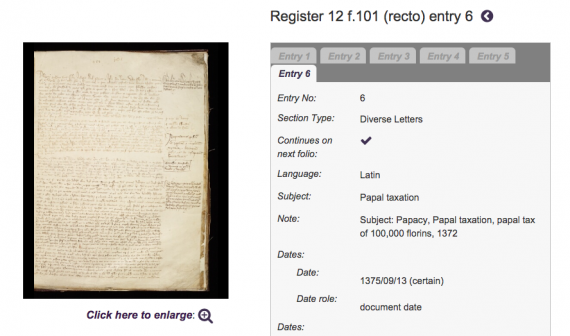 The Registers produced by Archbishops of York, which cover the period from 1225-1650, are one of the earliest, largest and longest locally-produced series of archives from the medieval and early modern periods. Starting fifty years before corresponding examples for the Archbishops of Canterbury, they are unparalleled in Europe.
Recording activity across the whole of the North of England, the Registers provide unique insights into ecclesiastical, political and cultural history over a period that witnessed the Black Death, the Wars of the Roses, the Reformation and the English Civil War. Among the the topics that can be researched:
The appointment of parish and diocesan clergy; for instance the institution of clergy to parishes as well as appointments of clergy to chantries and hospitals
Information regarding the management of parishes and parish clergy
Wills and probate, dating from early as 1267
Church taxation, rates and payments for church upkeep
Mandates demanding an action by the Archbishop issued by the Monarch or Pope
Information regarding inspections of parishes and religious houses (known as Visitations)
Funded by the Andrew W Mellon Foundation, the digitisation project took 15 months, with specialist conservation and imaging work undertaken at the University's Borthwick Institute for Archives, and technical development carried out by the University of York Digital Library.
A highly technical process, each Register had to be individually assessed and treated by a specialist conservator before, in some cases, ultraviolet imaging was used to reveal text unseen for hundreds of years.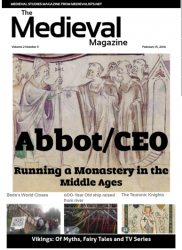 Professor Mark Ormrod, the University of York's Dean of Arts and Humanities, said, "The launch of the Archbishops' Registers website brings to fruition a major project in the Digital Humanities, its content and method being of truly international importance. Bringing together the very best of modern technologies with the highest traditions of academic research, the continuing work on the Archbishops' Registers will ensure free and remote access to the wealth of information and interest contained in these priceless historical documents."
Click here to visit York's Archbishops Registers Revealed