If this is your first year attending the International Congress on Medieval Studies, I will begin by saying that if you like medieval studies, you will have a great time at this conference.  I first attended the Zoo as an undergraduate back in 1996, and I have been going nearly every year since.  It is four days of learning, mingling and having fun, and for some serious business gets done too. 
This page will serve as a quick guide to what you can expect at the congress, and how to navigate the campus of Western Michigan University in Kalamazoo.
The University
The congress has become so large that it take places in most areas of Western Michigan University. Originally, the congress was based in a series of buildings known as the Valley, but now most sessions take place in other halls, while the registration center, book display hall, cafeteria and some of the main sessions are still based here.  
If you are attending the congress for the first time, it is essential to consult the map of the university and perhaps spend an hour or so walking around the campus.  You can walk to any place in the campus in about 10 minutes, and there is also a shuttle bus that will drive around the area too.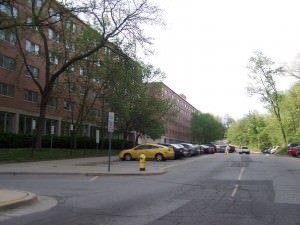 Your Room
Almost all conference participants choose to stay on campus.  While there are hotels in Kalamazoo, it is much more convenient to have a place which is a 5 minute walk away from the lecture halls rather than a 20 minute drive.  This means you will be staying in a college dorm room, and you are getting the dorm room experience.
If you do stay on site, your room will mostly look like this, a fairly spartan set up. They provide you with a pillow, bed sheets, blanket, towels and soap. If you have room to take your own pillows and blankets, please do so, as this is not the best quality.
Each room comes with two beds, and you should be able to push them together if you want to.  The heating system is rudimentary, and you have no control over how warm or cold it is, so your only option is to open a window for fresh air.  The weather in Kalamazoo during the month of May can vary greatly, from very hot to very cold, so make sure to check the forecast before you leave and be prepared for both extremes.
You should also note that bathrooms are shared between two sets of bedrooms, and the only way to lock the bathroom doors is from your side of the room.  There is a potential that whoever is in the next room might walk in accidentally while you are in the washroom, but in the ten years that I have been going this has never happened, and there should be no problems with sharing the shower and sinks (there are two sinks for each room).  Just keep your area clean. 
Eating on and off campus 
The congress offers various meal plans where you can prepay for breakfast, lunch and dinner.  My advice would be just to buy the breakfast because there are lot of other options for eating lunch and dinner elsewhere, and I personally don't like the food served at the congress cafeteria (some people have said the food has gotten better in recent years, so you might want to take your chances).   There are a few places on the campus and many more just off of it where you can have a decent meal. The Bronco Mall, which is on the lower level of the Bernhard Center (this hall hosts the plenary lectures and a lot of other activites) has a few fast food places, including a Pizza Hut Express, Taco Bell and Subway. This is also the place to go to access computers for either online surfing or to finish up your paper before you give it.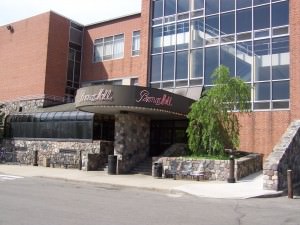 Outside of campus you can find many restaurants, some of which are in walking distance.  An annual favourite for many congress goers is Bilbo's Pizza in a Pan, which was originally located just off of campus, but has now moved further away.  It is still worth a trip if you want to eat The Elves of Rivendell (a chicken breast sandwich) or Smaug the Dragon warns you this is filling (Roast beef, ham and turkey).  The place will be busy during the congress, as will most other restaurants.  
Attending Sessions
With hundreds of sessions to choose from, you will need to do some planning beforehand to figure out which ones you should attend.  My advice is to try to listen to papers that you already know something about and would be interested in.  In my first year I made the mistake of going to a session on some medieval author that I had never read before, so when the papers started, I found myself knowing absolutely nothing about what they were talking about.  The people giving papers usually assume their audience already has some knowledge about their topics.  So, if you want to attend a session on medieval monasticism, you should go into knowing at least what a monastery does, and the basic differences between types of monastic orders.  
My own interest is in medieval military history, so I would suggest going to the sessions run by De Re Militari.  You will get a lot of different topics, some very good speakers and the sessions get up to 50 or 60 people attending.  
Before you go off to a session, double check the errata of the congress, to make sure that there has been no changes (1 or 2 sessions get cancelled at the last moment each year, and others will lose or gain a speaker). Try to arrive at least 5 minutes before the session begins, so that you will get a seat (sometimes sessions get booked in very small rooms that fill up fast) and you don't walk in while a person is already talking. Typically what happens is that the session has a presider who will introduce each speaker.  The speaker gets up, gives her paper, which will last around 20 minutes, and then they go onto the next speaker.  A session will have anywhere from two to four speakers.  After they are all done, the presider asks for questions and comments from the audience – this will last another 10 minutes or so (longer if people are really interested in what the speakers have talked about).  If you have a question for one of the speakers, please don't hesitate on asking it – the speakers really do want to get questions and feedback.  If you feel too embarrased to ask in front of an audience, then just walk over to the speaker after the session finishes and ask them then.  
The congress will also run two plenary sessions, which are held in the morning before the other sessions of the day start.  The plenary sessions will involve one speaker, usually an experienced and well known professor, giving a paper that will last about 45 minutes.  Although you are not expected to go to this – in fact, these sessions will draw a few hundred people, which is a minority of congress attendees – I usually recommend that you take at least one of them in.  They are often well written and delivered, and the speaker will also simplify their presentation so that the non-expert can follow along.
More to do at the Congress
Another important place to go is the Exhibits Hall, which is found in the middle of the Valley buildings.  All the important publishers are there, as well as other book sellers, people who sell medieval-related items (music, fiction books, children's books, etc) and a small food stand.  The area has grown to over 50 retailers, so it will take a long time to get through all the booths.  It is open all day during the congress, so if there is a session you want to skip, use that time to stroll around the Exhibits Hall.  Also, from 5 to 6 each night they hold a wine hour, which is quite busy as waiter walk around with free glasses of white or red wine.  
Speaking of free alcohol, each night will have at least one, and usually three or four receptions that have open bars.  Again, most of this takes place in the Valleys, in the larger rooms on the ground floor.  They are hosted by the various publishers, and this is mostly an occasion for scholars to mingle with each other and chat.  They often get crowded, with people spilling out into nearby rooms or the small open courtyards that can be found inside these buildings.
Saturday night brings extra festivities, as their a special evening session hosted by the Pseudo Society, which is basically a comedy show put on by medieval historians.  Three or four lectures are given, and they can be hilariously funny.  I think is a must-see event, but arrive extra early to get a seat.  After that, much of the crowd heads off to the dance, which also can be very funny, if you find humour in watching middle-aged professors strutting their moves on the dance floor (as the video below will you some evidence of):
Sunday morning is the end of the congress, and many people are busy packing, or doing some final shopping for books (many sellers slash their prices for this final day), so the sessions are sparsely attended.  By noon the congress is over for another year, and the return trip home from Kalamazoo begins.
✉Sign up for our weekly email newsletter!