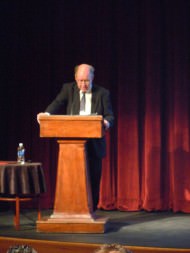 What is Medieval Military History and Why Does it Matter? is a lecture delivered by Professor John France of the University of Wales-Swansea during the symposium: Dancing With Death: Warfare, Wounds and Disease in the Middle Ages, at California University of Pennsylvania, on October 20, 2010.
Professor France gives the reasons why he thinks studying warfare in the Middle Ages is important, noting how military history has become dominated by the Second World War, which leads to many potential problems for today's society. The lecture also deals with ancient warfare and other topics.
Please click here for a detailed analysis of the lecture.
See also our video interview with Professor France, conducted in 2009.