Bloch explained simply many things about the historian's craft which I half-recognized but had been unable to articulate.
Cross Kissing: Keeping One's Word in Twelfth-Century Rus By Yulia Mikhailova and David K. Prestel Slavic Review, 70, no. 1 (2011) Introduction: Jean-Claude…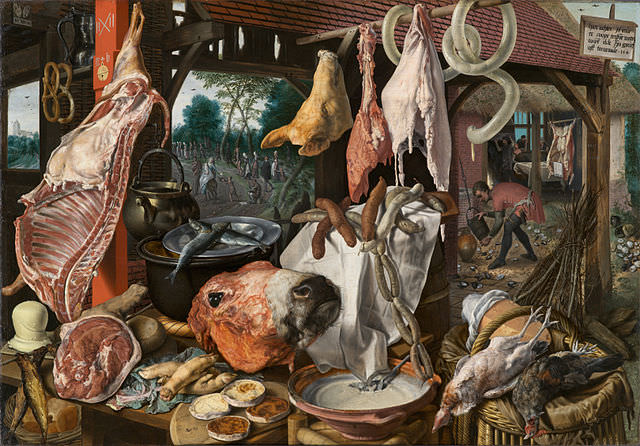 A recently published article has revealed some interesting new details about meat consumption in the Middle Ages, including how different regions in medieval Western Europe had their own preferences for these foods.
The Medieval Synthesis Lecture by Professor Keith Ward Given at Gresham College on December 7, 2007 Religion and Philosophy. Aquinas and Aristotle. The…
Dr Simon Thurley is a leading architectural historian, a regular broadcaster on television and radio and is the Chief Executive of English Heritage,…
The late medieval Jewish settlement in Red Ruthenia: The case of Krosno By Jerzy Mazur Studia Judaica, No.26 (2010) Introduction: There has been…
I take the term 'elites' to signal a call for new approaches. It is a more inclusive term than 'aristocracy' or 'nobility'. It includes kings (and queens) as well as aristocrats. It includes clergy as well as laity. It also calls us to look below the level of the high aristocracy: how broad is an elite? Can it include what historians of Anglo-Saxon England would call 'the gentry'? How many elites are there?
The University of Wales has launched an online catalogue containing over 5000 image of stained glass windows dating back to the Middle Ages.…
Medieval Universities, Legal Institutions, and the Commercial Revolution By Davide Cantoni and Noam Yuchtman Paper given at the New Frontiers in Economic History…
During the Middle Ages European cities were to various degrees autonomous. This paper analyzes the interaction between cities and their overlords.
Hero or Tyrant: Images of Julius Caesar in Selected Works from Vergil to Bruni By Sarah M. Loose Master's Thesis, Brigham Young University,…
The Potential of Environmental Archaeology and Geoarchaeology at the site of the Staffordshire Hoard By Benjamin Gearey Paper given at the Staffordshire Hoard…
An Italian art historian believes that the Shroud of Turin was created by the famous artist Giotto de Bondone in 1315. The linen…
Archaeologists working in the historic Cotswold market town of Winchcombe have uncovered remains dating back to the thirteenth century. A team from Cotswold…
Erotic Tales of Medieval Germany Translated by Albrecht Classen Medieval and Renaissance Texts and Studies: Texts for Teaching, Volume 3 Arizona Center for…
Danish Medieval Wall Painting By Axel Bolvig Making Medieval Art, edited by Phillip Lindley (Shaun Tyas, 2003) Introduction: 1411, Queen Margrethe I, who…
For the history of the Isles in the 12th and 13th centuries historians are very dependent on the Chronicles of the Kings of Man and the Isles, written from a Manx perspective, perhaps mostly in 1257.
In this week's episode of Game of Thrones, Robb prepares for war, Sansa begs for mercy, the dead walk the Wall, and Tyrion…
Of Faith and Fidelity: Geoffrey Hotspur and the War for St. Peter's Thone By Evan Ostryzniuk Knox Robinson Publishing, 2011 ISBN: 978-0-9567901-5-6 Publisher's…
My first real memory about that I was 7 or 8 years old whatching the film "Conan the Barbarian", with Arnold Scharzenegger and…
A 9th Century AD Arab or Indian Shipwreck in Indonesia: First Evidence for Direct Trade with China By Michael Flecker World Archaeology, Volume…
The Depiction of Jews in the Carnival Plays and Comedies of Hans Folz and Hans Sachs in Early Modern Nuremberg By John D.…
The purpose of this thesis is to provide an insight into the role and place of women in late medieval England through a qualitative and quantitative examination of 403 women's wills from 1300 to 1500.
It is not easy to find out where, when and how falconry developed and spread into Korea.
Architectural Styles and Ethnic Identity in Medieval to Modern Cyprus By Michael Given Archaeological perspectives on the transmission and transformation of culture in…