Graciosi: Medieval and Early Modern Attitudes to Disability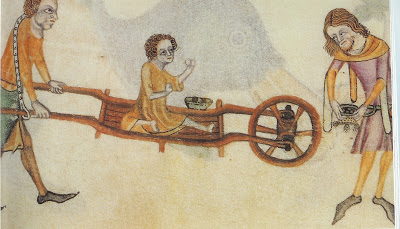 Carole M. Cusack
School of Studies in Religion, University of Sydney, NSW, Australia (1997)
Abstract
To modern people, 'dis-ability' implies a lack or an incompleteness on the part of the person so labelled when judged by the standard of the complete person. For a large section of medieval society this was not the case: the 'dis-abled' were seen to possess special gifts  which were indicative of their privileged status as recipients of God's grace.
That evening they brought him many who were possessed by devils. He cast ut the spirits with a word and cured all who were sick. This was to fulfil the prophecy of  Isaiah: 'He took our sickness away and carried our diseases for us',
Sickness and health in early Christianity
The gospel accounts of Jesus are unanimous in presenting him as a healer of the sick. His ability ti heal is derived from his intimate relationship with God, and is a sign that the kingdom of heaven is at hand. Those who come to Jesus seeking wholeness, whether material or physical, invariably receive it.  What is more significant is that in Mark 2:1-12 Jesus' ability to heal is linked with his ability  to forgive sins, which reinforces the notion that physical and mental wholeness was God's original intention, and that people suffer in their bodies and minds as a result of sin.
Click here to read this article from University of Sydney