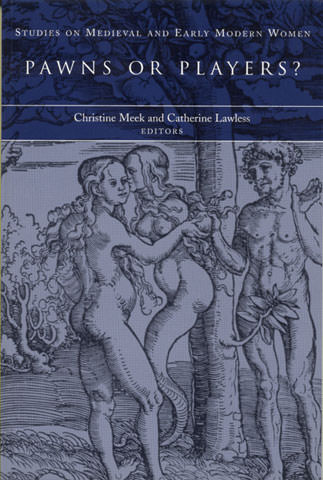 Women on the margins: the 'beloved' and the 'mistress' in Renaissance Florence
By Catherine Lawless
Pawns or Players, eds. Christine E. Meek and Catherine Lawless (Four Courts Press, 2003)
Introduction: I record that on July 31, 1383, there died the ill-famed Letta, daughter of Federigo di Pierozzo Sassetti, in the house of Giovanni di Noldo Porcellini, in the Borgo Ogni Santi. She was buried by the friars of the church of Ogni Santi at the hour of vespers. May the devil take her soul, for she has brought shame and dishonor to our family. May it please God to pay whoever was blameworthy. And this is sufficient to describe this evil memory, which has dishonored us all. But man cannot change that which God, for our sins, has willed. But we are contemplating a vendetta which will bring some balm to our feelings.
This quotation concerns a woman from the wealthy Sassetti house, Letta di Federigo di Pierozzo, who died in 1383 while in the in house of Giovanni di Noldo Porcellini. The attitude of the Sassetti family is typical of attitudes concerning women who placed themselves (or were placed) outside the sanctioned family structure. Letta is described as ill-famed due to her presence in the house of a man who was neither her husband nor her relative. She was the bearer of dishonour to the family, her sin tainted all. Most of all, the Porcellini family had transgressed against the property of the Sassetti family, a transgression which would be avenged. The report points out that Letta was buried in the church of Ognissanti, which was not the burial place of the Sassetti. She was thus excluded from family memory and ritual forever.
This article will discuss women who found themselves in irregular relationships in late medieval and Renaissance Florence. It will look both at women who were idealised as love objects and women who were in fact involved in pre- or extra- marital sexual relationships. Numerous histories of women have been written in the last thirty years or more. Social history has examined the roles of women in the family, the convent, in urban trades and as peasants. Woman as wife, mother, homemaker has been studied with regard to the formation of early modern ideology of the state, where the home or family can be seen as a microcosm of the state. Historians of art and literature have shown how images were gendered and also how male artists/writers mediated female forms or types.
Click here to read this article from Academia.edu