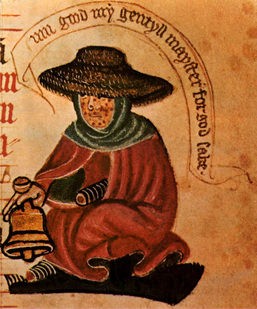 The modern image of the medieval leper — disfigured, deeply feared and socially outcast — has not only become the popular metaphor for social exclusion but also influenced our larger understanding of the disease. Yet recent research has revealed temporal and regional variation in the social response to leprosy.
Today, Arizona State University is hosting a research symposium "The Social Stigma of Disease: The Archaeology and Bioarchaeology of Leprosy," which is is free and open to the public. For more information on the symposium schedule, visit http://ihr.asu.edu/news-events/events/social-stigma-disease-leprosy-symposium.
This symposium explores the social stigmatization of disease by considering the long-term history of leprosy: from the origins of the pathogen Mycobacterium leprae to the foundation of leprosaria in late medieval Europe to the creation of leper colonies in the 19th and 20th centuries.
"One of my larger research questions is the social construction of disease and disability, which I investigate through a case study of leprosy and leper hospitals in late medieval Ireland," says Rachel Scott, assistant professor in ASU's School of Human Evolution and Social Change and IHR Fellow.
Papers being presented at this symposium include "Leprosy, the Great Pox, the Great Famine, and the Black Death: A Medieval Series of Unfortunate Events," by Gillian Crane-Kramer from SUNY Plattsburgh, and "Dispelling the Myths of Leprosy: Perspectives Using Bioarchaeology," by Charlotte Roberts from Durham University.
"I'm very excited to bring these particular scholars to ASU because they are interested in similar research questions but focus on different aspects of medieval leprosy or on other time periods or regions," says Scott. "Thus, as a group, the scholars participating in this symposium offer a broader perspective both on leprosy and on the social stigma of disease."
Archaeological and bioarchaeological research on leprosy are important in part because the disease and its associated social stigma, though less prevalent, do still exist today.
"Examining the long-term history of leprosy provides a better understanding of how and why certain diseases acquire negative social meaning," says Scott. "Many scholars have made the comparison between medieval leprosy and modern HIV/AIDS, with the hope that research on leprosy in earlier time periods will help us recognize and address the stigmatization of disease in our own society."
Source: Arizona State University