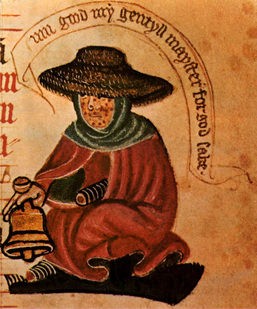 People with leprosy (Hansen's disease) during the Middle Ages
Herbert C. Covey
The Social Science Journal: Vol. 38 (2001)
Abstract
Leprosy or Hansen's Disease represented a major social, moral, and health concern during the Middle Ages. Few diseases have evoked the social responses that leprosy did during the Middle Ages. Medieval explanations, social norms, perceptions, and medical responses to leprosy and people with the disease are surveyed. Some medieval communities took dramatic exclusionary measures to socially isolate individuals with the disease. Other communities, while acknowledging the disease, treated individuals similar to ordinary citizens and with compassion.
In extreme cases, Hansen's disease, or as it is more commonly known as leprosy, is one of the most disabling and deforming diseases. It has a high degree of misunderstanding and misconceptions about its cause, methods of transmittal, and treatment. Leprosy is a chronic bacterial infection that involves the skin, nerves, and other tissues. The cause is Mycobacterium Leprae, which is a slow growing bacteria that can take up to 20 years to incubate before having any observable effect. It is not very contagious and only about 10% of people exposed to it actually get the disease and those that do have varied clinical manifestations. If unchecked, it can lead to blindness, loss of neural sensation, and local paralysis. Leonine forms of the disease cause skin damage such as skin becoming thickened and furrowed. Correspondingly, there is a gradual withering of certain parts of the body that may result in deformed feet and what some have characterized as "claw hand." Secondary infections from syphilis, frostbite, diabetes, or injury often account for some of the characteristics associated with the disease.
Leprosy remains a baffling disease because how and why the disease spreads still are not fully understood. Some experts believe poor living conditions, close contact, poor diet, and other factors promote the disease. Genetic factors may also be an important influence on the degree of susceptibility. Before the sixteenth century, reliable diagnoses and accurate descriptions of the disease were rare. Physicians frequently misdiagnosed the disease and confused it with skin ailments, such as fungi, eczema, pellagra, ringworm, and psoriasis.
Click here to read this article from The Social Science Journal