"THE ART OF WAR"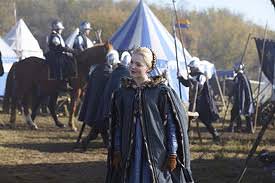 In this week's episode….
"I had a dream, my son…or, a nightmare. I dreamed that all of Italy had deserted us; Sforzas, Colonnas, and the French army swarmed through Rome like a cloud of locusts  " ~ Rodrigo Borgia
Giulia and Lucrezia are captured by the French, Juan suffers a devastating defeat, Rodrigo has a change of heart, and the clergy flee Rome before the coming storm of war.
"If you speak of your affections, Paolo, I will see you hanged after you're whipped, do you understand? It would be a shame to maim that body of yours for all the pleasure it gave her" ~ Giulia Farnese
Giulia and Lucrezia escape Pesaro with the help of lover boy Paolo. Giulia asks him to prep the horses and keep his mouth shut because she knows about their affair. This is it for these two star-crossed lovers. It's done, she's never coming back and he's never going to be with her again. Bye-bye Paolo. He is a mere groom and he got a noble pregnant – Giulia's comment implies that in spite of Lucrezia's joy, he should be killed for what he's done.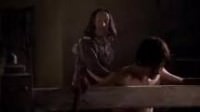 Naive little Lucrezia asks Paolo when they will see each other again, and Giulia says, "When horses fly", i.e., NEVER. He will be lucky if he comes out of this alive. Later on he gets whipped by Lord Sforza, who wants to know where Lucrezia has gone and he tells him that Lucrezia couldn't stand the sight, smell or touch of him so she left and the he can't stand him either. NICE! His goose is cooked for sure, but at least Lord Sforza got a taste of his own medicine :)
"Must we face this French apocalypse alone? Our saviour was kissed thus by Judas Iscariot  " ~ Rodrigo Borgia
Rodrigo dreams that everyone has abandoned him, except, unfortunately, it's not a dream – it's reality. Rodrigo asks Spain for aid but they don't want to help Italy. The Spanish Ambassador tells Rodrigo that any intervention would be tantamount to a declaration of war between France and Spain. Rodrigo, now irate, because he has granted Ferdinand and Isabella titles and a Papal Bull declaring their everlasting dominion over the New World threatens that his Papal approval can easily be rescinded. This still does not stir the Ambassador who stands his ground, albeit apologetically. Rodrigo's threats are just not taken seriously anymore.
"Well then seek out the Gonfaloniere of the Papal Forces from whatever whorehouse he's
seen fit to rest his head!" ~ Rodrigo Borgia
Rodrigo demands Juan's presence to discuss the Papal Forces and he is nowhere to be found. Cesare knows where to find him – the local whore house, but of course! Rodrigo is PISSED. Juan's out whoring while French canons are coming for them. Cesare goes to the whorehouse and grabs Juan, who's passed out on a bed, and dunks his head in a barrel of cold water! HAHA! He sarcastically tells Juan, "Your father would review the forces at his command 'Gonfaloniere'", stressing his title. Cesare sneers at him, and chucks more water on Juan; he's highly annoyed. He practically hisses at Juan telling him that he has more pressing duties than whoring. Juan is squandering a post that Cesare so desperately wants. To top it off, Juan keeps rubbing it in his face, saying that's why he's in cleric's robes and jokes about everything, quipping, "Lechery and debauchery are the very marks of nobility ".
This just shows how serious Juan is about the situation ahead of them. While Cesare and Rodrigo make plans to deal with the French, Juan's out getting laid. Cesare is seriously irritated with his ass of a brother. He's so ridiculously incompetent it's not even funny anymore – it's scary.
"Rome has been sacked twice in her past, we would spare her a third such indignity." ~ Rodrigo Borgia
Rodrigo and Cesare check on weapons and makes preparations for war. Juan, not surprisingly, has no answers on how to defeat the French. Well, he does, but "needs time" to sort out how *head desks* . Rodrigo gives him shit for taking his sweet time.
Rodrigo makes mention of Juan's strategy and Cesare mutters that the plans were "dreamed up in last night's whore house" LOL! Ahhhh, Chezzy :) He takes the best pot shots at Juan. Rodrigo chastises Cesare for mocking Juan, he wants him to build moral in Juan, not take digs at him. New spreads that the Colonna arms have joined the French and clergy are fleeing Rome; and finally, the College of Cardinals abandons Rodrigo. It seems his dreams, or more like, his worst nightmare has come true.
"I know little of the art of war" ~ Cesare Borgia
"Well thank God someone in this family does" ~ Juan Borgia
Juan devises a plan to meet the French in open field, not holed up in Rome. Rodrigo is ecstatic that his son finally has a plan of action and backs it much to Cesare's dismay. We can see what he thinks of Juan's great battle plan, it's written all over his face, he's not impressed, not in the least. You would be tempted to give Juan props for trying until he turns around and makes fun of Cesare, acting like a know-it-all. Yes, Juan, you know the art of war so well…you, who couldn't even carry out a hit properly and had to have your cleric brother clean up your mess and show you how it's done. Cesare scoffs at Juan….he knows his plan is garbage and is letting it play out because it's the only way Rodrigo will finally see that Juan was never suited for the role of Gonfaloniere.
"My God…I can see no left, or right…their army fills the whole horizon" ~ Juan Borgia
This ineptitude is made evident when Juan reaches the outskirts of the city and sees the endless line of French troops. He shit bricks, there is no other way to put it. He simply panics and looks like a tool. There is no way to flank them, because he cannot see the end of the lines to either side of him. What's worse is that King Charles explains to Lucrezia that chained canon is used especially in open field battle, thereby completely destroying Juan's "brilliant" plans for meeting the French in the open. A volley from the canon decimates the first lines of the Italian army and it's a gory scene; body parts, guts, entrails and blood spray over the front lines and unnerve Juan's men.
"Would you survive this day, dear Juan?" ~ Lucrezia Borgia
Giulia and Lucrezia are captured by the French and Giulia makes their identities known hoping it will aid them in stalling an attack on Rome. It's here that Lucrezia shines – outshines her brother Juan by leaps and bounds. She comes up with a stratagem with Giulia – they're going to use their looks and wits to gain their freedom. Lucrezia flirts shamelessly with King Charles but it works! She gets on his good side and it pays off for Juan in the long run.
When they meet Juan's army in battle the following day, Lucrezia manages to get the King to hold the
canons for a moment. She gets to Juan and gives him a new (and better!) game plan: tell their father that the French King offered terms – his safe passage to Naples in return for his bloodless entry into Rome. She gets this agreement from the King and Juan saves face. Nobody is fooled. Lucrezia has more political and military ability in her baby toe than Juan does in his entire body. It's rather pathetic really; he owes his skin to his fourteen year old sister.
"You brother did not fail Cesare, your father did. Your father who placed that responsibility upon his shoulders. I was blinded by paternal fondness." ~ Rodrigo Borgia
It is here that Rodrigo finally realises his folly in letting his fatherly affection get he better of him. He realizes Juan was never suited for the role of Gonfaloniere. Rodrigo feels alone and Cesare comforts him and tells him he will never leave him. When Juan finally arrives, Rodrigo informs him he is staying in Rome and Juan will go into hiding with his mother. That's the ultimate in shaming. He's being sent away because he's proven useless. Juan knows it too – he looks like he was slapped when Rodrigo orders him to leave. He deserves it though – all his bravado and nothing came of it.
"At times such as these Brother Rafael, one needs old friends." ~ Rodrigo Borgia
Rodrigo goes to see his confessor, Brother Rafael, and dons the clothes of a simple Franciscan so he can face the French hordes. He knows he is being tested and wants to face this dark hour courageously, without the trappings of his office. He wants to face the invasion with nothing but his faith in God. Ummm…good luck with that, pal. Not much more to say here. Rodrigo, like the Captain of the Titanic, is staying until the ship sinks.
"No, you will put your trust in me. I will not have you without protection!" ~ Cesare Borgia
Still in love with Ursula, Cesare goes to the nunnery to save her but she refuses to leave because she has taken vows. She's also refusing to leave because she would betray her vows in a second with him. I don't think this is the last for these two. Ursula is hanging on to her habit with all her strength but it's a very tenuous hold. I think if Cesare chips away at her, she will not be a nun much longer. He's still obviously very much in love with her to have bothered to come all that way to break her out.
"Rome is like an old whore waiting once more for her ravishment" ~ Cesare Borgia
Everything is coming to a head. Will Rodrigo survive the onslaught with his faith alone? Will Cesare finally take the helm of the Papal armies and save Rome? What will become of Lucrezia and Giulia Farnese at the hands of King Charles of France? All these questions will remain unanswered until next week's exciting season finale "Nessuno (Nobody)". Tune in to Showtime and Bravo to watch the final fate of The Borgias revealed, Sunday at 10pm EST.