"Death On A Pale Horse"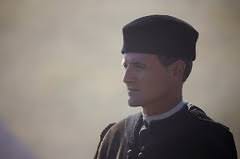 In this week's episode….
The French decimate Lucca, and march on towards Florence while Della Rovere wrestles with his conscience. Cesare pays Ursula a visit, Juan beds Gioffre's wife Sancha, Giovanni Sforza reneges on a promise, and Lucrezia discovers the  true cause of her illness.
"And before me was a pale horse, and its rider was named Death. He had power over a quarter of the Earth to kill with his sword, with famine, with plague and with the wild beasts of the Earth! " ~ Savanarola
Savanarola's words could not ring more true – the French are in Italy and Della Rovere seems to regret his decision to ask for their aid in ridding Rome of the Borgia Pope. He knows full well that Italy will not withstand the might of the French army.
"He's sweetness itself but he lacks your vigour " ~ Sancha of Naples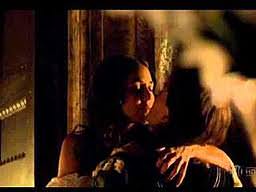 Juan is still screwing his little brother's wife, Sancha, right under his nose as he plays outside. This is about as low as it gets, but at the same time, what did they expect marrying a woman to a child? It is curious that Juan doesn't regret rejecting Sancha as a wife seeing as he's also a bastard and compared to all the unsightly girls he had been offered, she would be a welcome prize. Then again, Juan is delusional about his lineage and thinks for some strange reason that he's a better bastard, I suppose, than Sancha? A bastard is still a bastard, even in Pope's robes Juan. Just sayin ;)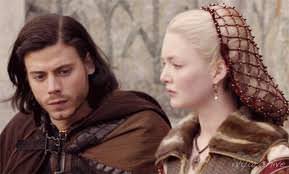 "If he does ill by you, I shall do ill by him. I dislike him already" ~ Cesare Borgia
Uh-oh….You don't want Cesare Borgia to dislike you, it basically means you're dead. Lucrezia confides to Cesare that her marriage isn't a happy one but she doesn't divulge too much knowing her brother's "methods" of taking care of problems. Cesare, as we have seen with Ursula's husband, always keeps his promises. If he knew how badly Lord Sforza treated his sister, he would keep that promise of doing him ill…and a lot more than just that. She tells him about Lord Sforza's accident and her joy in it. She doesn't want to upset Cesare but he is already upset and knows in his gut there is more to this than Lucrezia is letting on. He knows their father married a lamb to a wolf.
"I have another rival then…and I can't kill him" ~ Cesare Borgia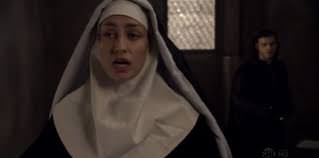 Cesare goes to see Ursula, who is now "Sister Martha" at the convent of St. Cecilia, where ironically, Cesare is the benefactor. Ursula is still madly in love with Cesare but rejects him, saying he delivered her to God and that bigger things await him, that he will make history. Cesare still wants Ursula but it seems that she is set on denying him event though she knows she will never be rid of him. She says she is married to Christ and Cesare quips that he finally has a rival he can't kill! Oh Chezzy, you knee slapper, you! :D Ursula is scandalized by his irreverence but, seriously, we're not surprised; Cesare is only in the Church at Rodrigo's behest and therefore has no concerns about morality or blasphemy.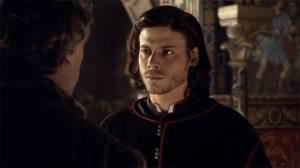 "We are facing a battle for our very survival." ~ Rodrigo Borgia
Twenty-five thousand French troops are marching towards Milan. Rodrigo is trying desperately to figure out what side Milan and Florence are taking. Milan appears to be taking the side of the French, and Florence although it hasn't agreed to take the French side, also hasn't made a concrete commitment to the Vatican as to where it stands. At this point, Rodrigo tells Cesare, the College of Cardinals hasn't heard and he wants to keep it that way. Cesare speaks to Cardinal Sforza about the fact that his cousin in Milan is permitting the French unhindered passage. He asks for his continued support – well, more like threatens him for his support. Cesare Borgia rarely "asks" for anything.
Rodrigo knows that the Sforza's in Milan have abandoned him so he sends Giulia to speak to Lucrezia to find out what is going on in Pesaro because he hasn't heard from her. He is looking to make good on that marriage alliance.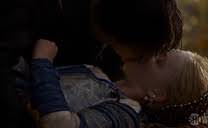 "Young lovers are always doomed" ~ Lucrezia Borgia
Lucrezia and her "Narcissus" sit beside a stream and worry about what will become of them when Lord Sforza is finally able to walk again. When she arrives home, he is walking and asking to speak to Paolo. This sets off alarm bells for Lucrezia because she knows he will want to bed her and he is quite possibly onto Paolo so she devises a plan to prevent both from happening. She decides to rig an accident again so that he is injured again. She prepares herself for bed and waits for her husband, and he enters their bedchamber and slips on a puddle of water that she's poured on the floor. The smile on her face as she "helped" him brought tears to my eyes :) Smart girl!
Later, over dinner, Lord Sforza tells Lucrezia about the invasion and that she is fortunate she is a Borgia no longer. She gently reminds him of his allegiance to her family through their marriage and he says he will renege, as his cousin already has, on that promise and help depose her father because he considers him and her family swine. Lucrezia, distraught by his harsh words, suddenly falls ill and leaves the table.
LUCCA
"It is war Cardinal, plain and simple" ~ King Charles VIII

The French arrive at Lucca and the city wants to discuss terms of safe passage and surrender. The French  respond by firing canons into the walls. They aren't very into "parleying". The French pillage Lucca; looting, ransacking, raping women, and killing children.
Della Rovere is very upset by what he feels is gratuitous violence on the part of the French soldiers
towards innocent, unarmed civilians. He tries to stop the carnage by fighting off a soldier but he is too late and can only comfort a poor woman while she dies in his arms. King Charles is not sympathetic to his pleas, and tells him that this is what war looks like; this is what he asked for when he invited the French to invade. Della Rovere hears the prophetic words of Savanarola repeated in his mind as he witnesses the slaughter – "I see castles aflame, I see blood running through the streets of cities…will you be the one Cardinal Della Rovere, to bring forth this apocalypse? Are you the cleric in red?" Unfortunately, yes…yes he is.
Della Rovere tries to get out of having dinner with the French – he is so upset, but Charles doesn't let him
off the hook. He refuses to let Della Rovere retire to his quarters and escape his company. He asked for this from the French and now he must sit and face it. I'm glad Charles did that. It forces Della Rovere to come to terms with what he's done – he's being forced to dine with the very men who slaughtered a town full of Italians. It should make him think twice.
Della Rovere pleads with King Charles to be permitted to ride ahead and try to negotiate terms with Florence to avoid the same slaughter he witnessed at Lucca. The terms are steep: 400,000 ducats, free passage and hostages from each of the major Florentine families. This is a poignant moment – Della Rovere rides into Florence on a white horse and overhears Savanarola preaching about Death riding a pale horse and Della Rovere realises HE is Death riding on a pale horse.
"This is the chair of St. Peter's. We are the voice of the living God. We will occupy this chair until our death and the fires of Hell shall rain down on those who will oppose us. ..You are either with us, or against us…" ~ Rodrigo Borgia
Alphonso finds King Ferrante dead in his bed. Naples now falls to him. News of this spreads quickly and Cesare brings Ferrante's death to his father's attention. Cesare begs his father once more to give him command of the Papal Army because Juan is incompetent. Rodrigo thinks that Juan is trained for this and Cesare is not but Cesare knows Juan has only played at war and hopeless at even the most simple murder (remember pillow smothering Cem?). Rodrigo threatens to excommunicate Florence's nobility if France is allowed to pass and he orders Savanarola burnt at the stake. He tries to rally the College of Cardinals to vote to excommunicate Della Rovere but no one sides with him. It's a bleak scene for Rodrigo and he realises just how little loyalty money can truly buy. He has bought these Cardinals to keep his seat but their aid only goes so far. They are not supportive of him and his demands fall on deaf ears. Vice Chancellor Sforza points out that whether or not he excommunicates Florence, the invasion will proceed.
Rodrigo sees his old Franciscan confessor. The one man he liked and can confide in freely. Rodrigo wants to leave his office and run away with the friar away free of the trappings of Rome and back to simplicity but his confessor convinces him to stay and persevere.
"And now my Lord Medici, that you've surrendered the Republic of Florence, can we at least pour the wine?" ~ Niccolo Machiavelli
Machiavelli and the Medici's are informed of the pending excommunication should they allow free passage to France….but they allow it anyway because they don't want to have the same bloodshed that occurred in Lucca, occur in Florence. They agree to the exorbitant terms King Charles lays out and allow the French to pass through Florence unhindered. Machiavelli is indignant, saying they are paying for the privilege of being invaded. Well, it's either be invaded nicely or murdered brutally – take your pick Nicky…
"The House of Borgia is doomed. The arms of the house of Sforza will remain where they
belong…in the Romagna" ~ Katerina Sforza
Giulia arrives at Pesaro  and Lord Sforza's cousin, Katerina, is with him. Giulia finds that Lucrezia is unwell, and speaks to the Sforza's about the pending French invasion. She tells the Sforza's the Pope will not accept his deposition, and the arms of the Papal states and the armies of the Romagna, including those of the Sforza's, will come to his aid. This is where they tell her that they won't help and are reneging on the marriage promise. Giulia leaves, visibly upset.
The crappy part is that Rodrigo married Lurcrezia to a mean, violent, cruel bastard to get arms and an alliance that never materialized. She was married to a brute, who pretty much rapes her every night, all for nothing. Nothing has come of this alliance except for the Sforza's continued contempt of the Borgias. Lord Sforza takes every opportunity to make Lucrezia feel bad about her Borgia blood. This marriage alliance was an utter failure on Rodrigo's part and now Lucrezia is paying for it. That's not all – Rodrigo is about to pay for it, for marrying an enemy to his beloved daughter who has turned on him at the earliest opportunity. That line about keeping your enemies closer? Not so much….
Later that evening, Giulia goes to see Lucrezia in bed and she tells Giulia that she thinks she has Cem's "swamp fever". Oh man….she's daft. Giulia asks Lucrezia to describe the symptoms of her illness and she asks her if Lord Sforza visits her bed. When Lucrezia mentions that he hasn't slept with her since his riding accident, and she tells her about Paolo being her sole comfort during this difficult time, Giulia knows immediately that Lucrezia is pregnant! She tell Lucrezia about her new condition and that hey must leave Pesaro in secret before her husband awakes.
This episode shows everything unravelling for the Borgia's. It's like watching an accident in slow motion. The web of intrigue Rodrigo spun has entangled him terribly. His lavish gifts, monies, titles, and marriages have not bought him the allegiances he so desperately needed. His grand plans have failed and he is scrambling now to put Humpty Dumpty back together again. He's forced to resort to threats of excommunication and even that is being scoffed at by his enemies. No one is taking him seriously. Juan is a disaster, Cesare is in a position where he can't help in a way that would do anything and Lucrezia is pregnant with a stableboy's baby. Surely, not the dreams of his Papal empire. Everything is pressing in on him from all sides and he will be forced to into a fight or flight. Tune into Showtime and Bravo next Sunday at 10pm to find out the fate of the Borgia's in next week's episode, aptly titled, "The Art of War", after Sun Tzu's famous, ancient Chinese military treatise. Until then…
"Let's drink then to the great God, Carnage" ~ Niccolo Machiavelli