The Tie that Binds: Peasant Marriages and Families in Late Medieval England
By Judith M. Bennett
Journal of Interdisciplinary History, Vol.15:1 (1984)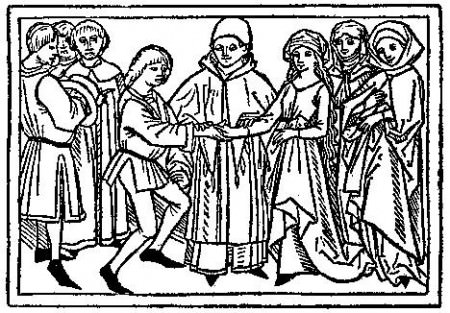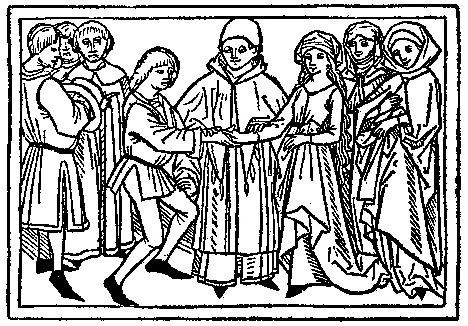 Introduction: On the last day of May 1319, Henry Kroyl senior attended his manorial court at Brigstock, Northamptonshire, and transferred a semi-virgate of land to his son Henry Kroyl junior and his son's intended wife, Agnes, the daughter of Robert Penifader. At the same session, the younger Kroyl endowed his bride with a small house, an adjoining yard, and six rods of land. Because the marriage that lay behind these transactions united the children of two prominent villagers, the Brigstock records contain nearly 2,000 references to the activities of Kroyl junior, Agnes Penifader, and the members of their immediate families. By using these legal proceedings to reconstruct the social spheres of the Kroyls and Penifaders, this article examines how this marital union changed the social networks of the principals, their parents, and their siblings.
Medieval marriage was both a private matter and a public institution. Although it technically required only the couple's consent, it usually involved the assistance of parents, the participation of neighbors, and the approval of administrators. Marriage disintegrated old families by removing members to create a new family, but it also forged human links that could strengthen social ties with blood relations. As a result, the social extent and social limitations of this pivotal institution highlight the boundaries and content of kinship ties in late medieval England.
Our ability to uncover these kinship limitations and possibilities, however, has been inhibited not only by the difficulties of using legal records for social analyses, but also by our methodological approaches to the extant data. The aggregative techniques employed in recent studies of medieval rural life have been extraordinarily useful in recreating rural social structures, but they have usually obscured the familial elements that underpinned those institutions. This historical perspective can be reversed by analyzing the recorded interactions of a selected group of people whose families have been reconstituted with unusual completeness. Such a narrow focus provides an ideal setting for network analysis. This system of charting and analyzing individual contacts must necessarily be applied only to small groups because personal networks can quickly grow to unwieldy proportions. Thus, ill focusing on the small set of interrelated households that constituted the Kroyls and Penifaders of early fourteenth-century Brigstock, we can use network analysis to assess the importance of specific kin relationships in the medieval English countryside.
Click here to read this article from the University of Southern California