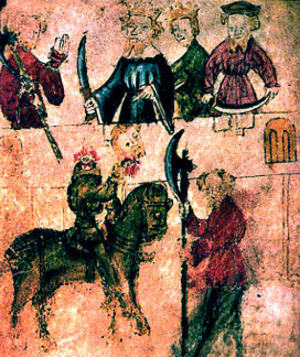 The Beheading Game in Sir Gawain and the Green Knight and The Green Helmet
By Olga Volkova
NTU Studies in Language and Literature, No.18 (2007)
Abstract: Juxtaposing two different works, the medieval romance Sir Gawain and the Green Knight (SGGK ) and the twentieth-century play The Green Helmet, this essay examines the functions of the folkloric beheading game. Expanding on J. A. Burrow's analysis of SGGK, the essay will focus on genre-specific idiosyncrasies of SGGK and The Green Helmet based on the five fictional modes developed by Northrop Frye in his Anatomy of Criticism. Complementing Frye's model with newer theoretical concepts, such as for example that of godgame, this paper will proceed to examine the artistic goals of the authors arising from the purposes and constraints of the two genres. It will then apply these purposes and constrains to the archetypal morphological functions united by the old Irish folktale. Its ultimate goal is to demonstrate the ways in which the folk motif helps create a chivalric, Christian, and meta-romantic text in the case of SGGK and a nationalistic, heroic myth-play in the case of W.B. Yeats's work.
Introduction: The earliest recorded version of the beheading game dates back to about 1100, although it is believed that the story itself may be much older than its Middle Irish prose account. In its archetypal form, the beheading motif found in two separate episodes, "The Feast of Bricriu" and "The Champion's Covenant," presents a sequence of functions described by Vladimir Propp as a difficult task offered to a hero, its resolution, and the recognition of the hero, in both cases Cuchulain. As together with many other Celtic tales and motifs, the beheading motif crossed the English Channel, it took on characteristics of the twelfth-century French romance, and as such, later became a subject of scholarly attention.
Probably the most thorough of the studies focusing on the beheading game is done by Larry Benson, who examines its evolution culminating with Sir Gawain and the Green Knight, his main subject. His and other similar accounts look at the beheading tale as a building block molded out of the clay of the older folk tradition, important so long as it provides us with a key to the artistic purposes of, in this case, the Gawain-poet who embellished and recast these blocks in a new way. While such an approach is helpful in exposing the mastery of the Gawain-poet, which is of course Benson's purpose, it becomes somewhat limited if we concentrate on the potential of the folk element itself in shaping narratives that are different in nature, narratives that are belonging to different genres and times; something this study purports to do.
Click here to read this article from National Taiwan University