Guenevere Burning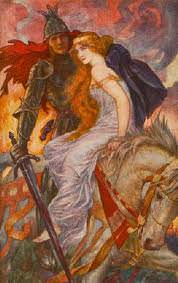 Kaufman, Amy S.
Arthuriana 20.1 (2010)
Abstract
Metacritical endeavours in which scholars explore their own pleasure have coaxed medieval studies into a delightful and perpetual swoon as of late. But pleasure is tricky business for the feminist reader of medieval Arthurian literature, mostly because we are always told that we are not supposed to be having any. Our time period is considered inaccessibly patriarchal, our writers deemed misogynistic, and the characters on whom we focus rendered marginal, artificially constructed, or worse yet, abstracted into the nebulous 'feminine.' Guenevere is oftentimes the victim of this view of the literary Middle Ages in readings that position her relationally to Lancelot, either as his destroyer or his redeemer. Yet whether we are asked to choose between Guenevere read as Mary or Guenevere read as Eve, we are still no closer to Guenevere herself. She is always a 'false' Guenevere, always shifting, always beyond our reach.
I am therefore delighted that this issue of Arthuriana takes the radical position that Guenevere is a character with a story, a dynamic heroine who explores both worldly and spiritual power, not an obstacle or accolade on someone else's journey. The writers within interrogate a number of long-held myths about what Guenevere means, myths that relegate her to symbolic or ancillary roles, and they do so by analyzing her character during her most intensely spiritual moments.
Click here to read this article from Arthuriana