The Problem of Revenge in Medieval Literature: Beowulf, The Canterbury Tales, and Ljósvetninga Saga
By Ann Park Lanpher
PhD Dissertation, University of Toronto, 2010
Abstract: This dissertation considers the literary treatment of revenge in medieval England and Iceland. Vengeance and feud were an essential part of these cultures; far from the reckless, impulsive action that the word conjures up in modern minds, revenge was considered both a right and a duty and was legislated and regulated by social norms. It was an important tool for obtaining justice and protecting property, family, and reputation. Accordingly, many medieval literary works seem to accept revenge without question. Many, however, evince a great sensitivity to the ambiguities and paradoxes inherent in an act of revenge.
In my study, I consider three works that are emblematic of this responsiveness to and indeed, anxiety about revenge. Chapter one focuses on the Old English poem Beowulf; chapter two moves on to discuss Chaucer's Reeve's Tale and Tale of Melibee from the Canterbury Tales; and chapter three examines the Old Icelandic family saga, Ljósvetninga saga. I focus in particular on the treatment of the avenger in each work. The poet or author of each work acknowledges the perspective of the avenger by allowing him to express his motivations, desires, and justifications for revenge in direct speech.
Alongside this acknowledgement, however, is the author's own reflection on the risks, rewards, and repercussions of the avenger's intentions and actions. The resulting parallel but divergent narratives highlight the multiplicity of viewpoints found in any act of revenge or feud and reveal a fundamental ambivalence about the value, morality, and necessity of revenge. Each of the works I consider resists easy conclusions about revenge in its own context and remains incredibly current in the way it poses challenging questions about what constitutes injury, punishment, justice, and revenge in our own time.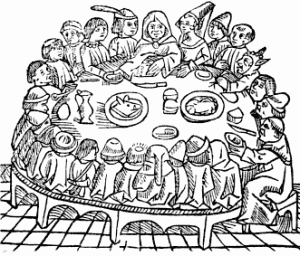 Table of Contents
Introduction
Chapter One: Duty and Desire: Beowulf as Narrator and Avenger
Chapter Two: Victim or Villain: The Choice of the Avenger in The Reeve's Tale and The Tale of Melibee
Chapter Three: Writing Wrongs: Author as Avenger in Ljósvetninga saga
Epilogue
Appendices
Bibliography
Click here to read/download this thesis (PDF file)