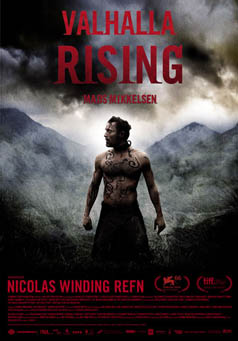 Valhalla Rising
Starring Mads Mikkelsen and Maarten Stevenson
Made in Denmark in 2009, being released in North America and Europe in 2010
Synopsis: Set in the the year 1000 AD, for years, One Eye, a mute warrior of supernatural strength, has been held prisoner by the Norse chieftain Barde. Aided by Are, a boy slave, One Eye slays his captor and together he and Are escape, beginning a journey into the heart of darkness. On their flight, One Eye and Are board a Viking vessel, but the ship is soon engulfed by an endless fog and the group is adrift for 40 days. On the verge of death, they find themselves in a freshwater river. The land seems at once strange yet familiar.
As the new world reveals its secrets and the Vikings confront their terrible and bloody fate, One Eye discovers his true self.
Click here to read Medievalists.net review of Valhalla Rising
Videos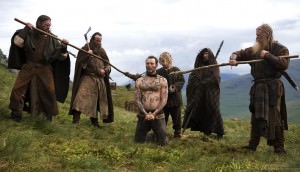 See also the Youtube channel valhallagirl2008, with videos of behind the scenes footage of the movie
Reviews and Articles:
Interview with Director Nicolas Refn
Nicolas Winding Refn's Rising Star – profile and interview from IFC.com
The Guardian – Review: True to form, Danish director Nicolas Winding Refn's movie of the middle ages is unremittingly dark – but weirdly beautiful…
NJ.com – Review:'Valhalla Rising" has a one-eyed warrior, a fierce tribe of Norsemen and plenty of hand-to-hand, broadsword-to-broadsword combat. And it is about as close to that old Baby Boomer fave, "The Vikings," as an existential crime thriller is to a playground game of cops and robbers…
"Valhalla Rising": What to see instead of "Inception" – from Salon.com