Castle for Sale in Italy: Located in the Commune of Marche, a few miles south of the city of Ancona, the Rocca di Bolignano was built in the early fourteenth century as a fortification to defend Ancona from the neigbouring city of Osimo.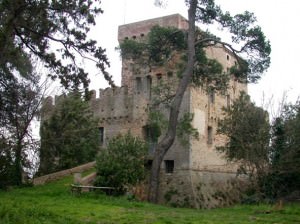 The castle was part of several fortifications which were used to alert Ancona of invasions by using fire signals.  It was owned by the city-state until the sixteenth century, when it was sold to private owners and used as a country residence or hunting lodge. 
Parts of the castle have been rebuilt or modified over the centuries – for example, Rocca di Bolignano originally had a drawbridge, but that has since been redesigned into a fixed stone bridge. The interior of the castle is in need of renovation, but this has already received government approval.  Can be converted into a hotel, meeting center or wedding hall, and the accompanying land is large enough to accomodate a small golf course.
For details about Rocca di Bolignano, please visit the Marche Project Management website